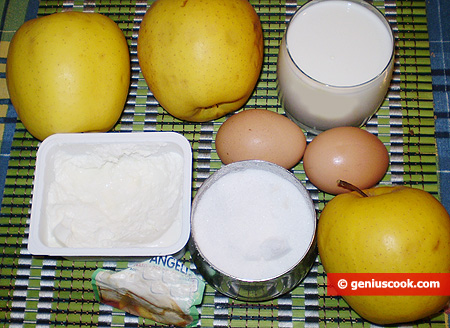 Flavorful apple donuts are a traditional dainty of the Trentino-Alto Adige region. It is a wonderful treat for adults and kids alike which is dead easy to make.
Ingredients for Apple Donuts
Apples: 2-3
Sugar 100 gr (3 oz.)
Flour 150 gr (5 oz)
Milk 150 ml
3 tablespoons yogurt
1 pinch of salt
Vanilla, cinnamon: to taste
Eggs 2
Oil for frying
Recipe for Apple Donuts
Whip up yolks and milk with salt and vanilla, cinnamon.
Add flour and yoghurt, mix well until you get a smooth substance. You should come up with not very thick dough. Cover up the dish and leave to come by for 30-40 minutes.
After that whip up yolks with sugar until you get thick foam and add to the dough, mixing it in by stirring from downside up.
Peel (or not) the apples, take out the cores and cut into rings about half an inch thick.
Warm up oil in a deep pan, dip apples into the dough and fry until they acquire a nice golden hue.
Put them away onto napkins to get rid of excessive oil.
When serving sprinkle with powdered sugar.