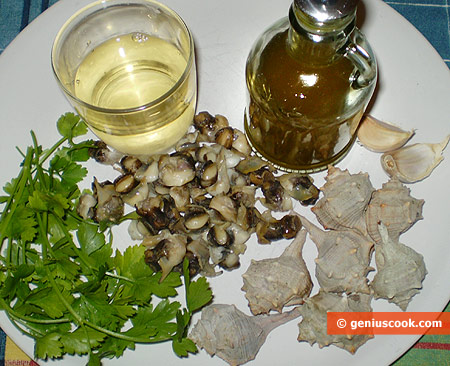 The Sea Snails with Parsley and Garlic in White Wine Recipe
Sea snails belong to gastropod mollusks. There are several kinds of edible snails. The ones we took for this dish this time are called Bolinus brandaris, to be found in the Mediterranean and Adriatic seas. This mollusk boasts a flavorful, tasty and tender meat – of course, if cooked properly.
It should be mentioned that eating mollusks produces a positive effect on sexuality, so any mollusk dishes are just fine for a romantic dinner.
Ingredients for Sea Snails in White Wine
2 lb snails in shells
2 cloves of garlic
parsley
3-4 tablespoons olive oil
half a glass of white wine
salt, pepper.
Recipe for Sea Snails in White Wine
Put the snails in a colander and wash in running water, turning them over and over energetically.
Put them in a pan with boiling salty water so that they are covered completely. Boil for about 25-30 minutes.
When boiled, take them out and prize meat from all shells with a toothpick.
Take a roasting pan and fry garlic on oil. Add snail meat, pepper.
After that pour in wine, stew for about 5 minutes, add parsley and in another minute turn off the heat.