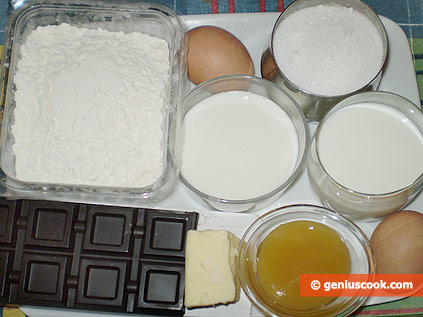 Today we treated ourselves to muffins with chopped chocolate and honey. They are very easy to make. Fresh, soft and fragrant muffins for morning tea or coffee can be a delight for every member of the family.
Ingredients for Honey Muffins with Chocolate Shavings
0.4 lb flour
0.1 lb corn starch
0.2 lb butter
2 tablespoons honey
0.16 lb sugar
0.16 lb chocolate
0.25 pt or 0.55 glass milk
0.25 lb cream or sour cream
2 eggs
1 teaspoon baking powder
Recipe for Honey Muffins with Chocolate Shavings
Mix flour with starch, salt and baking powder, strain it twice and add sugar.
Mix eggs with honey, butter, cream and milk.
Bring both mixtures together and knead dough.
Chop the chocolate, sprinkle with a pinch of flour, add it to the dough and mix it well.
Put the resulting mass into forms.
Bake in the oven pre-heated to 356 degrees for about 30 minutes. Check if it's ready with a toothpick – it should come out dry.