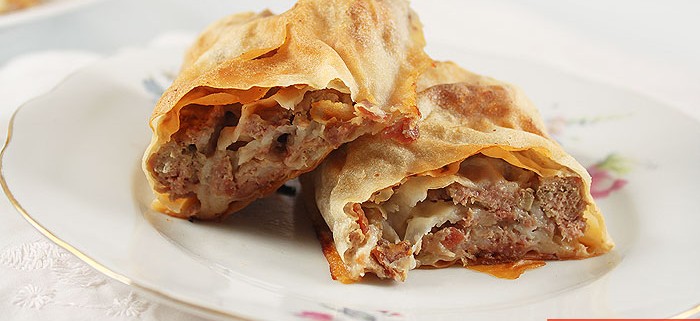 Try to cook a cake or pie from the finest filo (phyllo) dough – strudel stuffed with meat. This is a great hearty dish for lunch and dinner.
Filo (phyllo) dough can be bought readymade; it is not as dangerous as puff pastry, which is produced in factories with tons of chemicals and margarine.
Ingredients for Strudel with Meat
Filo dough: 150-160 gr.
Beef: 300 gr.
Onions: 2
Smoked pancetta: 100 gr.
Salt, spices: to taste.
Melted butter for greasing layers dough.
Recipe for Strudel with Meat
Mince beef, onions, and pancetta. Add salt, spices.
Put one layer filo dough on a greased baking sheet, brush it with butter.
Put a second layer on it and grease it too. Do the same thing with the third layer.
Spread meat filling over the entire surface, leaving 2-3 cm of an empty space at one edge.
Then make roll and brush it with butter.
Bake it for 40-45 minutes at 170-180 C.

Strudel

is good,

both hot

and

cold.