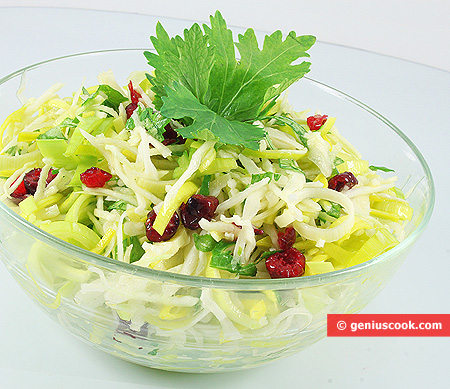 Here's another vitamin-laden salad for health and variety. It is made from fresh cabbage, dried cranberry, leek and celery, and has a very pleasant taste. Take the ingredients in quantities depending on your taste and the number of persons you prepare it for.
Ingredients for Cabbage Salad with Cranberry
Fresh cabbage: ¼ head
Leek: 1
A handful of dried cranberries.
A pair of stalks of celery.
Lemon juice, olive oil, sea salt: all to taste.
Recipe for Cabbage Salad with Cranberry and Celery
Chop cabbage finely.
Cut leek in thin rings.
Cut celery finely.
Mix them all in a salad bowl,

add

a dried

cranberries.

Dress with olive oil with lemon juice

, salt

to taste

.