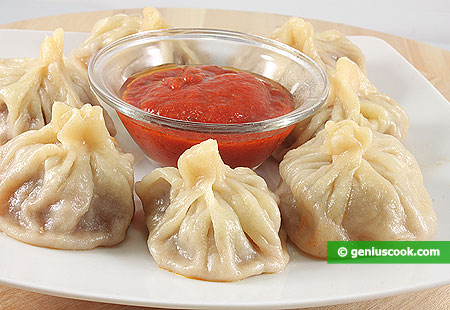 The Recipe for Tibetan Momo
Momo is a popular Tibetan and Nepal dish, similar to dumplings. It is a local fast-food.
Momo resembles Mongolian buuz, Chinese jiaozi, Asian manti, Russian pelmeni, Ukrainian varenyky, Italian ravioli and tortelloni.
Although there is a difference – momos are usually steamed, which makes them similar to manti.
Well, the filling, and dough preparation still has its own peculiarities.
We got interested in this dish and decided to cook it.
It turned out delicious. Here is the recipe.
Ingredients for the dough
Flour: 2.5-3 cups
Ice water: 1 cup
Ingredients for the filling
Beef or veal ( in Tibet use yak or buffalo meat): 500-600 gr.
Onions: 2
Garlic: 4-5 cloves
Fresh Ginger: 2 cm
Soy sauce: 2 tablespoons
Salt to taste.
Ingredients for the sauce
Tomato puree: 1 cup
Chili pepper
Salt, sugar: to taste.
Vegetable oil: 2-3 tbsp
Recipe for the Tibetan Momo
Tibetan housewives do not measure anything in grams, everything is done by sight. So do not waste time on exact measurements and just knead the dough with a little flour and ice water. The ratio of water and flour may vary. One thing is for sure: the dough should not be too tight and should not stick. Before you roll it out, keep it in the fridge for 1 hour, then slightly beat it by throwing on the table several times.
For the filling, you will need finely chopped meat, onion, garlic, and ginger. Add soy sauce, salt and mix thoroughly.
In Tibet, it is traditional to pinch off small pieces of dough from the big piece and make palm-sized circles. However, we did not have such experience, so we rolled out the dough thinly and cut out circles of the same size using a large cup.
Then we rolled out the edges, leaving the middle thicker, for the juice not to leak while cooking.
In the center of each circle, we put 1 tbsp filling, and pinched the edges together.
Momo is steamed 10-15 min.
Served hot with tomato sauce. For the sauce, you should pour a little oil in a saucepan, add some tomato puree, chili pepper, salt, sugar and boil until thick.
https://geniuscook.com/wp-content/uploads/2014/01/tibetan-momo.jpg
310
450
Elena and Alfredo
https://geniuscook.com/wp-content/uploads/2014/02/gc-logo2.png
Elena and Alfredo
2014-01-03 12:57:07
2014-06-26 14:17:39
The Recipe for Tibetan Momo