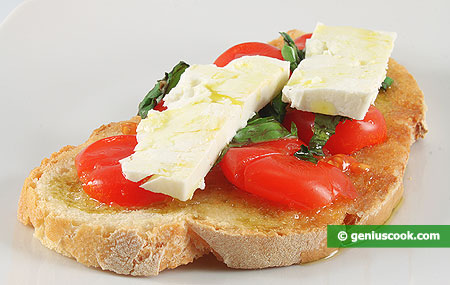 Bruschetta with Tomatoes and Goat Cheese
The word 'bruschetta' comes from central Italy and means grilled bread.
Once the bread is roasted over hot coals, it is rubbed with garlic and sprinkled generously with olive oil. Further variants are possible, depending on your taste. The typical filling is tomatoes, basil, cheese, sausage, olives.
This is a tasty and healthy Mediterranean appetizer.
Today we enjoy bruschetta made from peasant bread baked in a wooden oven.
Ingredients for Bruschetta with Tomatoes
Bread: 3-4 slices.
Garlic: 1-2 cloves.
Several ripe cherry tomatoes.
A few basil leaves.
Goat cheese or feta cheese
Extra virgin olive oil
Salt and pepper.
Recipe for Bruschetta with Tomatoes
Grill the bread; rub the pieces with garlic while warm. Drizzle with oil.
Cut tomatoes in halves. Put them on the bread, with the cut down, pressing down slightly for the juice to soak the bread.
Cover with cheese slices, sprinkle with basil, salt, pepper.