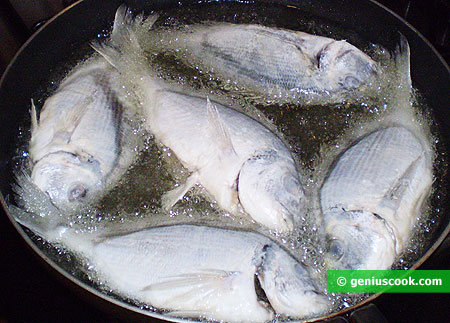 Gilthead bream is a very tasty fish. It is no sense adding anything else to it. In Italy, they add a little parsley, sometimes a bit garlic and lemon at most.
Since the fish is not large, it is prepared whole.
The chef's task is to retain moisture and not to spoil the natural taste.
White wine is well suited to gilthead bream. It refreshes and emphasizes its taste.
Ingredients for Pan-fried Gilthead Bream
One fish for 1 portion.
Flour for breading.
Oil for frying.
Salt and pepper.
Lemon.
Recipe for Pan-fried Gilthead Bream
Disembowel and scale the fish, rinse with running water. Dry.
Roll in flour, shaking off excess.
Pour enough oil into a deep frying pan, up to the level of 2 cm.
Heat the frying pan and put in the fish.
Slightly reduce the heat.
Fry on both sides, until nice crust.
Serve hot, add salt and pepper on a plate.
If you wish, pour a little lemon juice.