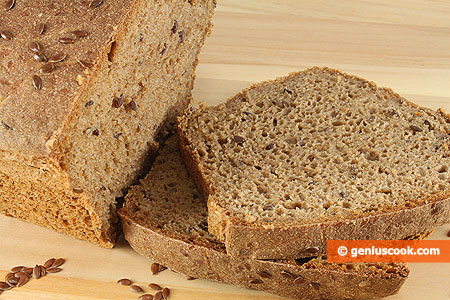 The Recipe for Sourdough Rye Bread
Dark kinds of bread are far more wholesome than those made from white flour. This excellent bread from rye flour which we often bake is made even more wholesome by the addition of flax seeds, a plant source of omega 3.
Great rye bread for weight loss. With this bread you will never get fat.
Ingredients for Sourdough Rye Bread
Rye flour: 400 g.
Wheat flour: 100 g.
Dried Sourdough starter: 15 gr.
Dried yeast 7 g.
Flax seeds: 2-3 tbsp
Malt syrup or honey 1 tsp
Large sea salt 1 tbsp without a hill.
Water: about 700-800 ml.
Vegetable oil (we had grapeseed oil, infused with rosemary): 2 tablespoons
Recipe for Sourdough Rye Bread
Mix all the ingredients, add water, knead soft sticky dough.
Leave for fermenting for 12-14 hours.
After that place the dough in the form, wait until it has swelled, about 1 hour.
Bake at 355 degrees, about 1 hour.