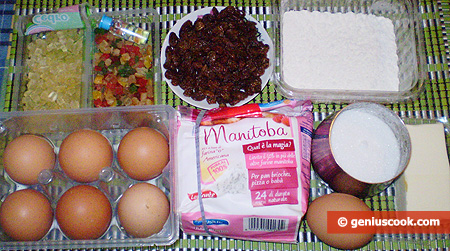 The Recipe for Italian Christmas Panettone
Panettone is an Italian cake made for Christmas. Days before Christmas you can find this traditional cake in all shops, packed in beautiful boxes. Though, despite that fact, many people prefer to bake panettone themselves at home, because at home you can use quality products since you cook for your nearest and dearest.
The original recipe of this sweet cupola-shaped cake comes from Milano. It is easy to make, but you have to be patient, for you will need a whole day – the dough needs time to rise and ferment long enough. Herein lies the secret of the uncommonly soft cake.
Besides, the recipe requires both the common type of flour and manitoba flour that has a high level of gluten and is therefore great for yeast bakery.
We post the variant where panettone is prepared with yeast and not by natural fermentation; it speeds up the process that took several days in ancient times.
Ingredients for Christmas Panettone
Flour, 00: 250 gr.
Manitoba flour 270 gr.
Milk: 70 ml.
Yeast: 15 g.
Butter: 160 gr.
Sugar: 165 gr.
Eggs: 4 + 3 large egg yolks.
Raisins: 120 gr.
Various comfits, candied: 80-100 g.
Zest of 1 lemon.
Vanilla.
Salt: 5 gr.
Recipe for Italian Christmas Panettone
Soak raisin in cognac for 4-5 hours.
Mix and sift flour both types
Take a deep dish and mix there 4.7 tablespoons warm milk, 1 teaspoon sugar, 0.35 oz yeast and add 3 oz flour. Knead dough, cover it up with a film and leave to come to for 1.5 hour.
The second step: add to the original dough 2 eggs, 0.4 lb flour, 0.17 oz yeast, 2 oz soft butter and 2 oz sugar. Knead well for 5 minutes with your hands, cover up with a film and leave for 3 hours.
The third step: add to the dough 0.75 lb flour, 3.5 oz sugar, 3 yolks and 2 eggs, 0.15 oz salt, 3.5 oz soft butter, squeezed raisin, sugared fruit, citrons, lemon peel, vanilla. Cover up with a film and leave for 3 hours.
Take a paper form 7 inches in diameter and 4.7 inches in height, smear it with oil and place in a suitable metal form.
When the dough has risen, knead it for about 5 minutes, then put into a form and leave to come to for about 3 hours.
When the dough has risen to reach the edges, cut a cross in it with a knife and put a piece of butter in the center.
Heat the oven to 355 degrees and put in the form. Panettone's top is baked very quickly and is apt to get burned, so after about 20 minutes cover it up with a foil and turn the temperature down to about 310 degrees and bake for another about an hour. Try it for readiness with a wooden toothpick by inserting it into the center until it reaches the bottom. The cake is ready if it comes out clean.
https://geniuscook.com/wp-content/uploads/2012/12/ingred-per-panettone.jpg
251
450
Elena and Alfredo
https://geniuscook.com/wp-content/uploads/2014/02/gc-logo2.png
Elena and Alfredo
2012-12-16 14:49:01
2012-12-16 14:49:01
The Recipe for Italian Christmas Panettone