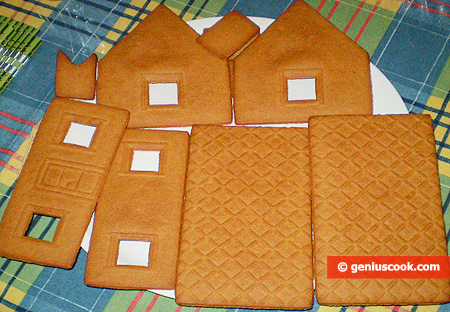 Let's Make a Gingerbread House
Many children will be interested and excited if you suggest they help you make a gingerbread house. The dough for the house ought to be thick and hard so it can retain form. If you don't have forms for small parts, never mind – you can cut them out of the rolled dough with a knife using a ruler, or out of cardboard before you start on the house.
Ingredients for Gingerbread House
675 gr. flour
1.5 tsp. soda or baking powder.
2 tbsp. ground ginger
1 tbsp ground cinnamon
175 g butter
225 grams of brown sugar
1 large egg
5 tablespoons honey
For royal icing
White 1 large egg
250g caster sugar
2 teaspoons of lemon juice
Recipe for Gingerbread House
Sift flour, soda and spices in a bowl, then rub in soft butter. Add sugar and mix well.
Mix egg with warm honey; mix everything together and knead smooth dough.
Wrap it up into a film and cool for 3 hours, longer if you like.
Meanwhile you can prepare the icing. Whip up egg whites with sugar powder. If the mixture comes out too dry, add some cold water, but do it very slowly. If the mixture gets too liquid, add sugar powder. The icing should be ready in five minutes. Keep it in a tightly closed container in the fridge.
Roll out the cold dough on a table sprinkled with flour until it is about 0.2 inches thick. Cut out small parts. Put them on a parchment and place in the fridge for an hour.
Heat the oven to 355 degrees and bake gingerbread for 10 minutes until they acquire a golden brownish hue; while it is hot, even out the edges. Cool it on the grating.
Decorate the house as your fancy prompts you and fasten the parts with icing. If necessary, prop the walls with suitable kitchenware pieces until they get dry.