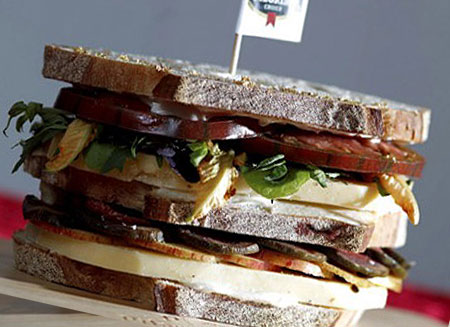 The Most Expensive Cheese Sandwich
British chef Martin Blunos presented the most expensive sandwich at the Frome Cheese Show in Somerset.
His masterpiece, priced at $176, is made up from three pieces of 5-pound bread baked on a special kind of leaven and sprinkled with Extra Virgin olive oil. Layered between the pieces are slices of Cheddar with flakes of grated white truffles, quail's eggs, heirloom black tomato, fresh figs and epicure apple.
A special flavor was created by the addition of mustard red frills, pea shoots and red amaranth. Edible gold dust provided a suitable crowning touch.
The creator of this culinary wonder hopes to get it recognized as the most expensive sandwich in the world to be entered into the Guinness Book of Records.