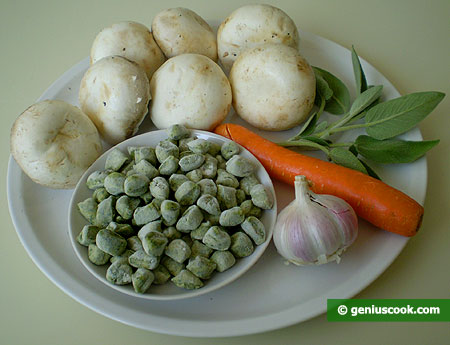 Spinach and Ricotta Gnoccetti in Creamy Mushroom Sauce
We already learned how to cook the Sicilian gnoccetti with spinach and ricotta. We put them in the freezer and now we can prepare different tasty dishes using these gnoccetti. For example, gnoccetti are very good in the delicious creamy mushroom sauce. It is our own recipe. We thought up this sauce and it was a success. We enjoyed an excellent dinner, and you can give our recipe a try too.
Ingredients for Spinach and Ricotta Gnoccetti in Sauce
1.1 lb/ 500 g spinach gnoccetti with ricotta
0.7 lb/ 300 g champignon mushrooms
1 carrot
3-4 saffron leaves
4-5 tablespoons cream
4 tablespoons dry white wine
1 fl oz/ 2 tablespoons olive oil
3 garlic cloves
black pepper, salt
Cooking Instructions
Take a saucepan and saute chopped saffron leaves and garlic in olive oil.
Then add coarsely grated carrot. Fry for about 2-3 minutes, add diced champignon mushrooms and continue frying for about 3-4 minutes more.
After that add cream and in another minute wine.
Simmer the sauce for about 5 minutes. Then salt, add pepper to taste and turn the heat off.
Boil salted water in a big pan. Put in gnoccetti, stir constantly. When the gnoccetti float up, wait another minute and take them out with a slotted spoon. Put the gnoccetti into the saucepan with the creamy mushroom sauce.
Simmer the gnoccetti in the sauce for about two minutes, then you can serve them at once, sprinkled with grated Parmesan if you like. Serve the dish hot.
https://geniuscook.com/wp-content/uploads/2009/10/Ingredients-for-Spinach-and-Ricotta-Gnoccetti-in-Creamy-Mushroom-Sauce.jpg
345
450
Elena and Alfredo
https://geniuscook.com/wp-content/uploads/2014/02/gc-logo2.png
Elena and Alfredo
2009-10-03 15:41:15
2011-04-16 12:08:08
Spinach and Ricotta Gnoccetti in Creamy Mushroom Sauce