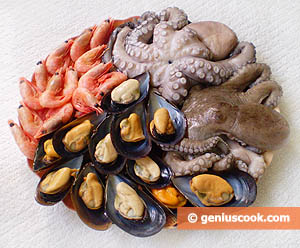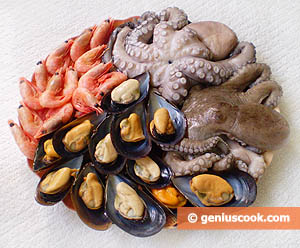 Try this lovely salad made with shellfish (octopuses, mussels and shrimp). Octopuses are found in warm seas, and they are especially abundant in the Mediterranean Sea. You might be curious to know some facts about shellfish. Female octopuses lay eggs on the sea floor and neglect to eat while they take care of their unhatched eggs. Mussels live in colonies attaching themselves to rocks and sea cliffs in pure coastal waters of the Black and the Mediterranean Seas as well as along the Atlantic Ocean coastline. Shrimp are busy at night when they come out hunting for plankton along the coast.
Eating this seafood is a way to get carbohydrates, vitamins A, B1, C, E and such minerals as zinc, natrium, calcium, iron, phosphorus, potassium, chlorine, cuprum and magnesium. Indulge your family with this marvelous salad.
Ingredients for Seafood Salad
2 lb (1 kg) shell mussels
2 lb (1 kg) octopuses
1 lb (500g) medium shell shrimp
3 tablespoons (50 ml) extra-virgin olive oil
2 garlic cloves
2 parsley stalks
2 lemons
Recipe of Seafood Salad
If you have fresh mussels, wash them and boil in a pot until they open.
If you have mussels with their shells open, just remove their flesh from shells.
Wash octopuses and carefully scrape away any slime.
Pour water in a pot and drop mussels and whole octopuses.
Bring to a boil and cook for 10 minutes.
Check for doneness with fork (fork should pierce the octopuses' arms easily). Over cooking the octopus makes it tough.
Remove mussels and octopuses.
Wash shrimp and boil them in mussel water.
Drain water through colander and remove their shells and heads.
Surprise your guests and place whole octopuses on a serving plate, putting shrimp and mussels around it.
Serve with a special pinzimonio dipping sauce.
Pinzimonio sauce features olive oil, salt, ground garlic and chopped parsley.
https://geniuscook.com/wp-content/uploads/2008/11/seafood-shrimp.jpg
248
300
Elena and Alfredo
https://geniuscook.com/wp-content/uploads/2014/02/gc-logo2.png
Elena and Alfredo
2008-04-22 17:30:54
2009-03-18 06:48:48
Seafood Salad