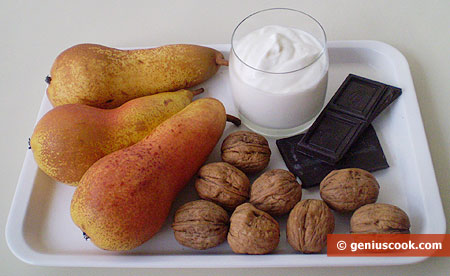 The Recipe for a Pear Dessert with Walnut and Chocolate
Fall is the season of ripe, juicy and fragrant pears. Pears make an excellent dessert. They contain slow carbohydrates that won't make your waist grow. Try to eat pears unpeeled. If the skin is soft, there's no need to peel it off, for it is as rich in cellular tissue as the pear flesh. Pears are wholesome for your heart and can be eaten even if you're diabetic. When following a diet or cutting down on fats, yoghurt will make a fine replacement for the cream in this recipe.
Ingredients for a Pear Dessert with Walnut and Chocolate
3-4 large soft and juicy pears
6-7 walnuts
0.2 lb/100 gr thick cream
4 tablespoonfuls of sugar
Black chocolate
Cooking Instructions
Cut the pears along, scoop out the seeds, then cut into long slices.
Put the slices into creamers or bowls.
Whip up some cream with sugar. Pour the whipped cream over the pear slices.
Put walnuts in top and drizzle with grated chocolate. Serve immediately.