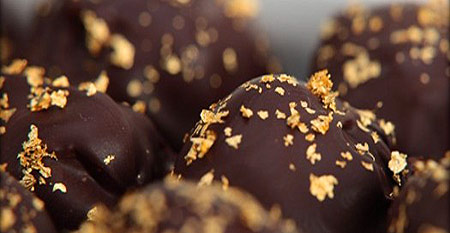 Gold-Containing Chocolate Truffles
Since old times edible gold has been regarded as a potent means of achieving longevity. It was for gentlefolks only, for gold has always been an expensive treat. Modern gourmets can also partake of such gold, naturally, paying a lot for the pleasure.
The British company The Chocolates produces chocolate truffles from a blend of the best cocoa beans which contain flakes of edible gold. Gold is added during the icing process. The technology of affixation of 24-carat gold imparts the truffles an exemplary taste and exterior.
Truffle stuffing is another feature the British chocolatiers are proud of. It comes in two versions – ganache, flavorful chocolate cream, and champagne-based stuffing that has a light sparkling taste.
These world's most marvelous truffles can be obtained in London's Harrods.