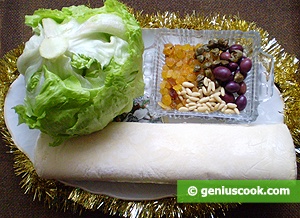 Pizza with Iceberg Lettuce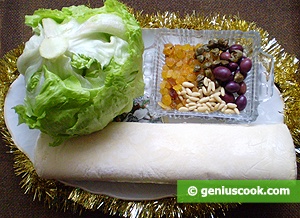 This vegetarian low-calorie pizza comes with iceberg lettuce, olives and cedar nuts. It is very tasty and healthy. Try this traditional Neapolitan recipe where scarola is substituted for iceberg lettuce. As a result, the taste of pizza gets somewhat different. Puff pastry and tender topping create scrumptious taste and flavor. This pizza is usually made for Christmas dinner in Italy. If this creative recipe appeals to your taste, you can make it any time to surprise your family. Here's the recipe of the pizza.
Ingredients for the Filling for Pizza with Iceberg Lettuce
1 head of iceberg lettuce
100 g olives
30 g capers
4 tablespoons (60 ml) extra virgin olive oil
2 garlic cloves
30 g cedar nuts
50 g raisins
Salt to taste
Ingredients for the Puff Pastry for Pizza with Iceberg Lettuce
1 cup (250 g) flour
1 cup (250 g) butter or margarine
½ cup (100 ml) dry white wine
Salt to taste
You can save time and buy frozen ready-made puff pastry.
Recipe of Pizza with Iceberg Lettuce
Wash lettuce, remove leaves. Use your hands to tear leaves into medium pieces.
Sauté halved garlic cloves until golden.
Then add pieces of lettuce leaves and some water. Cover and simmer for 15 minutes.
Add raisins, olives, capers and cedar nuts.
Season with salt to taste and simmer everything together for 10 minutes.
Knead soft white wine flour dough. Add some salt and water if needed.
Keep kneading dough until smooth. Sprinkle with some flour if needed.
Roll out dough thinly and coat with soft butter.
Fold it in thirds and roll out again into a very thin layer.
Then coat with butter again.
Repeat this process 4-5 times until the butter soaks in.
Shape dough into oblong loaf and place the loaf into refrigerator for 2 hours.
Roll thin dough disk and spread it out on round baking sheet in such a way that dough disk overlaps.
Add filling and place smaller dough disk on top. Curl and press dough at the edges.
Bake for 20-30 minutes at the temperature of 320-360 F (180-200 C). When dough turns nicely brown, pizza is ready.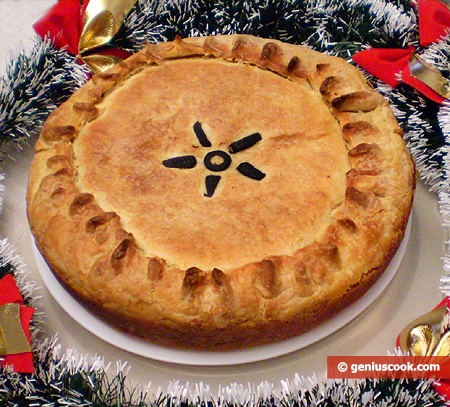 https://geniuscook.com/wp-content/uploads/2008/01/for-pizza-aisberg.jpg
218
300
Elena and Alfredo
https://geniuscook.com/wp-content/uploads/2014/02/gc-logo2.png
Elena and Alfredo
2008-01-04 14:01:50
2014-01-27 18:06:02
Pizza with Iceberg Lettuce