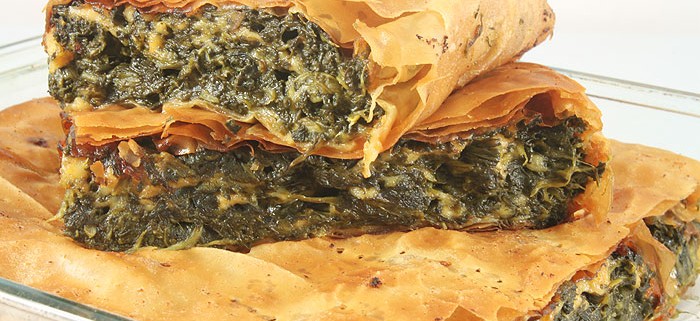 This pie contains little dough and lots of tasty filling. Such pies with herbs and cheese, made of the finest filo dough in Greek cuisine called spanakopita.
Only there using the goat cheese or feta cheese type, but we have a mixture of different Italian cheeses.
Ingredients for Spinach Pie with Cheese
Filo dough: 120 gr.
Spinach (can be frozen): about 1 kg.
Any Cheese, or mixture of different cheeses: 300-400 gr.
Olive oil: 3-4 tbsp
Melted butter for greasing layers.
Recipe for Spinach Pie with Cheese
Stew spinach with olive oil until soft and until excess moisture evaporates.
Mix spinach with grated cheese.
Grease the mold

suitably sized

, put layers of dough with melted butter in it, smearing each of them. Usually, there are 4 layers.
Put the filling on the dough and fold the edges to form a pie.
Pierce the pie with a fork in several places for it not to burst during baking.
Bake until gold color, at 180C, about 40 min.