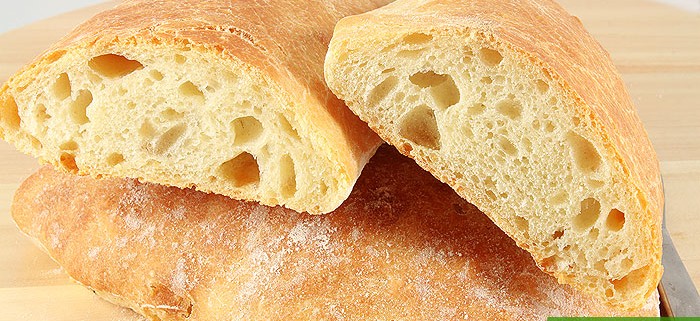 Italian Bread Ciabatta Recipe
Politics disintegrates people, but food can unite us. Wherever we are, food makes us gather at least once a day and spend some time together. It eliminates our differences and reveals our similarities.
Bread is present at almost every table. Try to bake Italian ciabatta, delicious bread with blistered elastic crumb. "Ciabatta" means "shoe" in Italian. It is baked from semi-liquid dough.
Ciabatta is popular as a base for delicious sandwiches.
Ingredients for Italian Bread Ciabatta
Flour 0: 800 gr.
Water: 600 ml.
Salt: 11 gr.
Malt (or sugar): 5 gr.
Fresh yeast: 8 gr. (or dry 2 gr.)
Olive oil: 1-2 tbsp
Recipe for Italian Bread Ciabatta
Dissolve yeast with a glass of warm water and 2 tablespoons of flour in a deep bowl. Add malt or sugar and oil. Wait for the activation of the yeast until it raises a foam cap.
Then add sifted flour, salt and the remaining water and knead the dough.
Cover the bowl with foil and leave it to ferment for 18 hours. This is best done in the evening to quietly bake ciabatta the next day.
Using a spatula put the dough onto a work table covered with a cling film and powdered with flour.
Bend the film, and roll the dough three times. The dough is very sticky, but do not add the flour. It is better to grease hands.
Sprinkle the dough with flour and divide it into portions with a sharp movement of the spatula, top down, trying not to destroy the bubbles in the dough.
Use a scapula to flip the dough on the oven-tray covered with parchment and sprinkled with flour. Leave the dough for another hour for proofing.
Preheat the oven to maximum. Put a saucepan with water in it to maintain a good level of humidity. Then the surface of the bread will turn soft, and it will allow the bread to rise well at the beginning of baking. To get a thick and crispy crust, it is necessary to remove the water from the pan at about the middle of the baking time.

Bake

 ciabatta in the oven for 30-35 minutes, at 220-240 C,  depending on its size.

Turn off

the oven

,

lift the

bread

from the pan

, placing it

on the edge and

allow to cool

in the oven with

the door

ajar

.