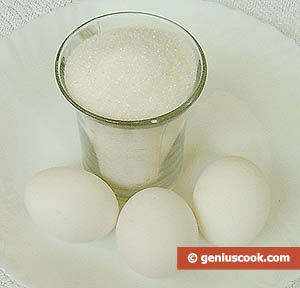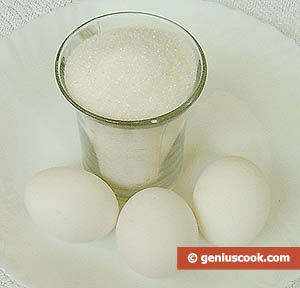 Meringue is an airy dessert that came from France. Meringue recipe is brilliantly simple. Meringue consists of the egg whites, sugar and millions of tiny air bubbles. An amazing and light taste will create the atmosphere of joy and coziness. Children like eating meringue so much! Now that we have mixers, this wonderful dainty is so easy to make, so you can indulge yourself and your children with this tasty dessert using our recipe. What you need is eggs, a little passion and a good mood.
Ingredients for Meringue
3 eggs
2/3 cup (180 g) sugar
3 tablespoons (50 g) sugar powder
1 teaspoon lemon juice
Salt
Recipe of Meringue
Cool the eggs.
Carefully separate the whites from the yolks. Just a little of yolk can make the beating harder.
Pour the whites into a dry deep bowl and add a pinch of salt.
Beat with a mixer at a medium speed until foamy.
The foam should not be soft. It should hold stiff peaks when you lift the beaters up.
Then gradually add sugar mixed with sugar powder. Add a little sugar and beat the mixture for 2-3 minutes. Repeat the process until you use all sugar.
Then add a teaspoon of lemon juice and keep beating.
When the foam forms stiff peaks, the mixture is ready for baking.
Preheat oven well.
Line baking sheet with a baking paper. Pipe the mixture onto the baking sheet with a pastry tube or a pastry bag using any tip you like. Use a spoon if you don't have the pasty bag.
Transfer the baking sheet to the oven and reduce the temperature to 210-250 F (100-120 C).
Bake the meringues for about 1 hour with the oven door open. Technically, meringue is not baked but dried.
When the meringues are dry enough, they are done.
https://geniuscook.com/wp-content/uploads/2008/12/eggs-sugar.jpg
288
300
Elena and Alfredo
https://geniuscook.com/wp-content/uploads/2014/02/gc-logo2.png
Elena and Alfredo
2008-06-09 18:43:06
2014-01-27 13:50:59
Meringue