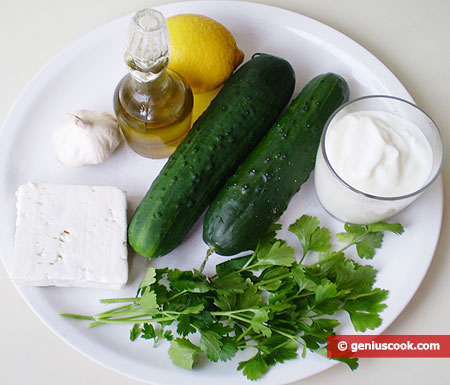 How to Make Tzatziki with Feta Cheese
Tzatziki is a Greek sauce commonly served with fresh homemade bread and olives. It can also make a good side dish for meat or fish, rendering them more flavor and juiciness. Tzatziki with Feta cheese is thick and has a rich pleasant taste that will appeal to all lovers of simple healthy homemade meals.
Ingredients for Tzatziki with Feta Cheese
0.4 lb yoghurt
2 cucumbers
2 garlic cloves
0.2 lb Feta cheese
a couple of parsley stalks
3 tablespoons olive oil
1 tablespoon lemon juice.
Recipe for Tzatziki with Feta Cheese
Peel the skins off cucumbers and grate them roughly. Squeeze out excessive juice.
Grate cheese.
Mix grated cheese, cucumbers and chopped parsley with yoghurt.
Add crushed garlic, olive oil and lemon juice.
Leave the sauce to soak for about half an hour.