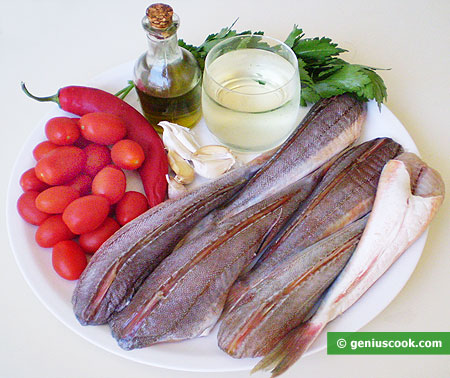 How to Make the Neapolitan Gurnard
Gurnard is a popular fish in the Neapolitan restaurants. They use it to make a dish called "Gallinelle all'acqua pazza" which means "Sea Hen in Crazy Water". Gallinelle or Sea Hen is what Italians call the gurnard. This fish is excellent for making soups and stewed dishes. Following this recipe you will get a piquant dish with a rich taste.
Ingredients for Neapolitan Gurnard
6 gournards
1 lb cherry tomatoes
6 garlic cloves
1 chili pepper
3 sprigs parsley
1 glass dry white wine
0.4 pt olive oil
celery, bay leaf
salt
Recipe for Neapolitan Gurnard
Clean and gut the fish, cut the heads off. Make some broth boiling the heads, celery and bay leaf, strain it.
Pour olive oil into a deep frying-pan and fry mashed garlic until brown. After that take the garlic out, put in halved cherry tomatoes and parsley. Fry on medium heat for 2 minutes.
Add the broth, a glass of wine, chili pepper and salt, and bring to boil. Then put in the fish, cover up, turn down the heat to minimum and simmer for about 20 minutes. Turn the heat off and let it stand for about 10 minutes.
Make several toasts, put one or two toasts in each plate, put fish on them and pour over with the sauce.