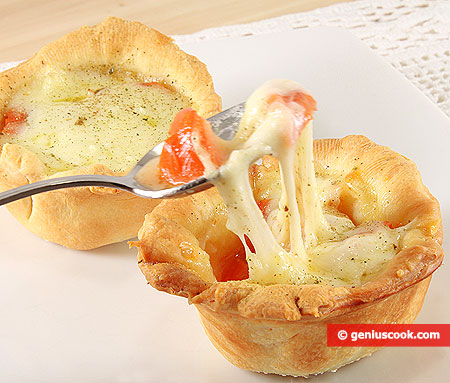 These are small crunchy baked baskets with juicy stuffing – a great idea for breakfast, dinner or buffet table. The filling here is the same as in the classic pizza Margherita, but placed inside a puff pastry, which we prepare for this Recipe.
Ingredients for Margherita Mini Quiches
Puff pastry or shortcrust pastry Breeze: 500 gr.
Couple of tomatoes.
Mozzarella: 100 gr.
Oregano, salt, olive oil.
Muffin molds
Recipe for Margherita Mini Quiches
Roll out the dough thinly, put it inside muffin molds.
Put sliced tomatoes, oregano, salt and a little olive oil inside the molds.
Bake the shells with tomatoes for about 15-20 minutes, for 180C.
Then remove from oven, add slices of mozzarella into the shells.
Send back into the oven for another 10 minutes.
When mozzarella is well melted, the quiches are ready.