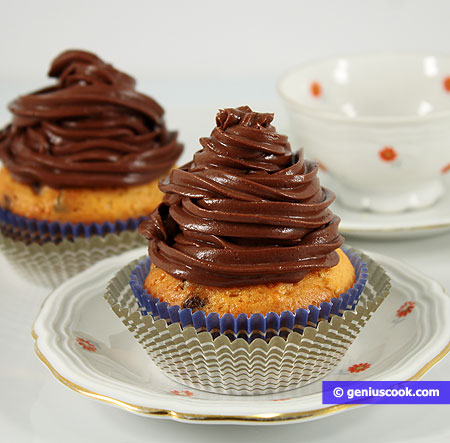 Yogurt muffins with chocolate chips
These muffins or cupcakes  are amazing soft, with air texture. Yogurt muffins – is the perfect way to have a delicious breakfast. They go very well for morning coffee or tea.
You can eat fresh muffins simply so, or can decorate with any cream.
Ingredients for muffins with chocolate chips
Flour: 320 gr.
Eggs: 3
Melted butter: 70 gr.
Greek yogurt: 100 gr.
Sugar: 150 gr.
Chocolate chips: 100 gr.
Baking powder 1 tbsp
Couple pinches of salt.
The recipe of muffins with chocolate chips
Mix flour with sugar, salt, baking powder.
Lightly beat eggs with butter and yogurt.
Mix liquid and dry ingredients.
Add chocolate chips, mix well.
Put the dough in the forms.
Bake in preheated oven at 180C, 25-30 minutes.
Muffins

can be decorated with

cream

. We mix Philadelphia cheese with 2-3 tbsp. cocoa and sugar.  Has turned out very tasty chocolate cream.