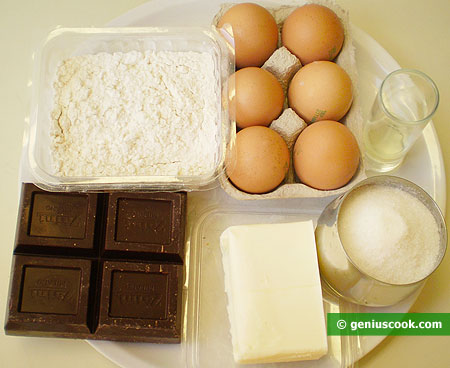 The Recipe for the Classic Sacher Chocolate Cake (the Sachertorte)
The history of the legendary cake with apricot jam takes us back to the year 1832. Franz Sacher was a 16-year-old apprentice at the court of Prince Metternich when he was told to invent an especially delicious dessert for honored guests. The guests liked his chocolate cake, and now the Sacher Cake is exported all over the world. All of its ingredients are natural. We publish here a recipe which is very close to the original one.
Ingredients for Sachertorte
0.3 lb butter
0.3 lb finely ground sugar
0.3 lb 75% black chocolate
0.3 lb best quality flour
6 eggs
1 tablespoon rum
1 tablespoon water
0.6 lb apricot jam
Ingredients for icing
0.3 lb black chocolate
0.24 lb sugar
1 tablespoon butter
0.25 glass water
0.25 glass cream
Recipe for the Classic Sacher Chocolate Cake
Sift flour twice. Separate yolks from whites.
Whip up soft butter with 0.2 lb sugar. Then add 6 whites one by one while whipping constantly.
Melt chocolate with water and rum,
Add the chocolate into the cream gradually, whip the mixture slowly. After that add flour.
Pre-heat the oven to 356 degrees.
Whip up the whites of the eggs with 0.1 lb sugar until they form stiff spikes. Put them into the dough.
Mix carefully with a turner from upside down.
Place the dough into a form that has been pre-oiled and sprinkled with flour. Bake for about 50 minutes.
When the crust has cooled down, cut it. Spread apricot jam inside and on top and cover the cake with chocolate icing.
To make chocolate icing dissolve sugar in water and boil it in a pan. Keep boiling on low heat for about 3 minutes. Melt chocolate until it's soft, add it into the sugar syrup, add butter and cream, mix well.
Serve the cake with whipped cream on the next day.
https://geniuscook.com/wp-content/uploads/2010/12/ingred2.jpg
368
450
Elena and Alfredo
https://geniuscook.com/wp-content/uploads/2014/02/gc-logo2.png
Elena and Alfredo
2010-12-29 15:58:06
2010-12-29 15:58:06
The Recipe for the Classic Sacher Chocolate Cake (the Sachertorte)