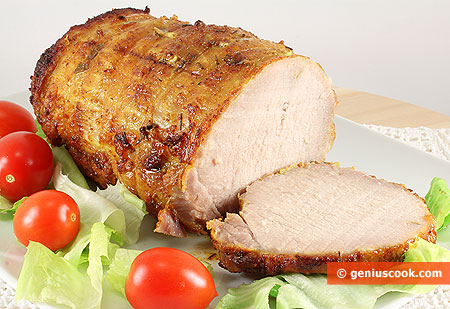 For this dish, use a whole piece of meat, better a boneless loin. Baked ham is exceptionally tasty, tender, and juicy, unless of course you over-dry it.
Pork is a great alternative to manufactured sausage, which usually contains unhealthy additives.
Ingredients for Home-baked ham
Pork Loin: about 1 kg. or slightly more.
Bay leaf: 2-3
Several cloves, various spicy and fragrant pepper, coriander, juniper, chili: all to taste.
Large sea salt: 2 tbsp (32gr.)
A few cloves of garlic.
Couple sprigs of rosemary.
Recipe for Home-baked ham
Grind all the spices with salt.
Spread this mixture over the meat on all sides.
Put the meat into a dry container, leave in the refrigerator for 3 days.
Then make a few punctures with a long narrow knife and insert garlic inside the meat.
Spread some oil over; tighten with a string, put on a baking sheet.
Bake at 160-170C (320-338F) for 1 hour.