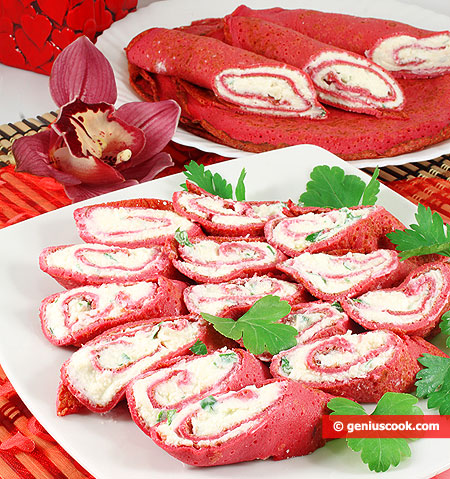 The Beet Pancakes with Cottage Cheese
Beet pancakes are pleasing to the eye because of their bright pink color. Their texture is soft and silky.
Moreover, the taste is just excellent; you will not taste beets at all.
Therefore, they can be cooked with salty or sweet filling and always be delicious.
Ingredients for Beet Pancakes
for pancakes
Boiled or baked beets: 200 gr.
Eggs: 3
Sour cream or yogurt 4-5 tbsp
Flour 1 cup.
Vegetable oil 3-4 tbsp
Couple pinches of salt.
Soda on the tip of a knife.
Milk: how many need, or about 1 cup.
for the filling
Ricotta or Cottage cheese: 200 gr.
Grated cheese Parmesan or any other: 3-4 tbsp
Olive oil: 1-2 tbsp
Salt, herbs to taste.
Recipe for Beet Pancakes with Cottage Cheese
Blend the beets.
Gradually adding sour cream or yogurt, oil and eggs, continue blending at low speed.
Then add flour, achieving the desired consistency of the batter by diluting it with milk. If you want thin pancakes, pour more milk and vice versa. You can adjust the density of the batter as you like.
Bake on a hot frying pan, pouring the batter with a ladle and quickly tilting the pan for the batter to distribute evenly.
When pancakes are cool, fill them with cottage cheese or ricotta and herbs. You can also take, for example, any soft cream cheese, pate, mushrooms, nuts, etc
https://geniuscook.com/wp-content/uploads/2014/04/con-crema.jpg
479
450
Elena and Alfredo
https://geniuscook.com/wp-content/uploads/2014/02/gc-logo2.png
Elena and Alfredo
2014-04-05 14:55:09
2014-06-22 08:03:18
The Beet Pancakes with Cottage Cheese