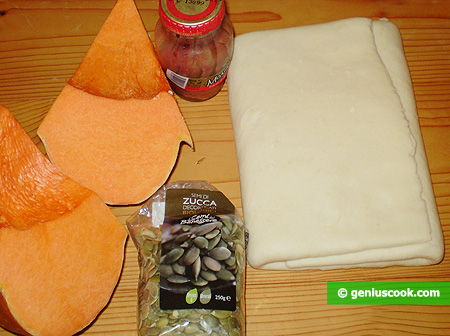 How to Make Crostata or Tart with Pumpkin and Anchovy
Fall came, and pumpkins are in. It's high time we tasted a delicious italian pie crostata (or in the French style – tart) from thin dough with a pumpkin and anchovy filling. This will turn out a gourmet treat even for those who are indifferent to pumpkin.
In Italy, there are a variety crostata with sweet or don't sweet fillings. It is opened pies, which not difficult to do. They are good in that have little dough and lots of tasty fillings.
For the basics usually take shortbread, shortsrust or puff pastry.
Ingredients for Crostata with Pumpkin and Anchovy
A piece of pumpkin: about 200-300 g.
Salted anchovies in oil, fillet: 10-12 pcs.
Shelled pumpkin seeds.
Olive oil: 1-2 tbsp
Puff pastry: about 500 gr. We cook it on this recipe puff pastry for all occasions. Or you can take a simple dough as for Galette.
Recipe for Crostata with Pumpkin and Anchovy
Cut pumpkin into thin slices and sprinkle with oil.
Cover the bottom of a baking tray with parchment.
Roll the dough out thin and lay on the baking tray; cut the edges even.
Put pumpkin slices on top of the rolled-out dough clear of the edges. Lay out anchovy fillet and pumpkin seeds on top.
Bend the edges, adorn them with dough cut-offs.
Bake in an oven pre-heated to 350 degrees for about 40 minutes
https://geniuscook.com/wp-content/uploads/2013/11/ingrediente.jpg
336
450
Elena and Alfredo
https://geniuscook.com/wp-content/uploads/2014/02/gc-logo2.png
Elena and Alfredo
2013-11-08 06:36:33
2013-11-08 06:38:46
How to Make Crostata or Tart with Pumpkin and Anchovy