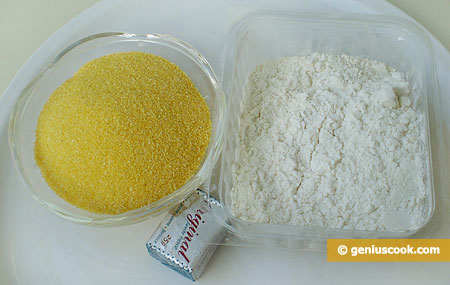 For this recipe you can take corn flour that is used for making polenta, corn porridge. You'll only have to let the flour soak in milk mixed with water until it swells. You will get crumby, flavorful bread with a wonderful taste. It's difficult to overestimate the health benefits of this bread , for it is rich in fiber and the most essential vitamins contained in corn.
Ingredients for Corn Bread
lb/ 2 cups wheat flour
0.3 lb/ 0.6 cup corn flour
0.6 pt/ 1.3 cup water
1.7 fl oz/ 3 tablespoons milk
1 level spoonful rough salt
tablespoons olive oil
0.9 oz fresh yeast
1 teaspoon sugar
Cooking Instructions
Mix warm water and milk, putting some water aside for yeast mixing. Soak corn flour in the milk and water mixture for about 1 hour.
Then mix the yeast with some warm water, add olive oil, salt and sugar. Leave it to activate for about 10 minutes.
Mix together sieved wheat flour and the swollen corn flour, add the yeast mixture and knead the dough carefully. You'll have to knead it for not less then 20 minutes. The dough will be elastic, but slightly sticky.
Oil the loaf pan and put the dough into it. The pan should be filled by one third only.
Leave the dough for swelling for about one hour and a half, covering the pan with a wet towel.
When the dough doubles its size, put the loaf pan into a pre-heated oven (430 degrees). Bake the bread for about 30 minutes. The bread is ready when it gets an appetizing golden crust. It's better to cut up the bread after it has cooled completely.