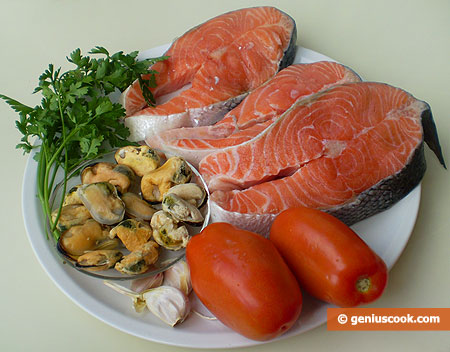 The Recipe for Salmon With Mussels in Tomato Sauce
Salmon is a tasty and fatty fish. It is not difficult to prepare. The taste combination of salmon and mussels in one dish is appreciated by lovers of good cuisine. Besides, its salubrious qualities increase by two. Red salmon flesh gives us astaxanthin (an anticarcinogenic substance) and Omega 3 polyunsaturated fat acid. Fatty fish and mussels contain iron which is so healthy for all of us and especially for women. You'll see your wrinkles smooth out noticeably right after eating this tasty and healthy dish. That is because all fish dishes are good for skin beauty too.
Ingredients for Salmon With Mussels in Tomato Sauce
1.5-1.7 lb salmon
0.7 lb mussels (you can take frozen)
0.7 lb grated tomatoes
2-3 garlic cloves
some parsley stalks
olive oil, salt, flour, white pepper
Cooking Instructions
Pour a little olive oil into a saucepan and fry chopped garlic.
Add chopped parsley and in a minute add grated tomatoes. Simmer the sauce for about 15 minutes over a low heat.
While the sauce is getting ready roll salmon pieces in flour and sauté them on a frying pan on both sides.
Put the fried fish slices into the saucepan with the sauce, add mussels. Salt and pepper to taste. Simmer all together for about 10-15 minutes.
Serve fish with mussels hot, well-sauced and garnished with herbs.
https://geniuscook.com/wp-content/uploads/2009/10/Ingredients-for-Salmon-With-Mussels-in-Tomato-Sauce.jpg
352
450
Elena and Alfredo
https://geniuscook.com/wp-content/uploads/2014/02/gc-logo2.png
Elena and Alfredo
2009-10-30 15:25:09
2009-10-30 15:25:09
The Recipe for Salmon With Mussels in Tomato Sauce