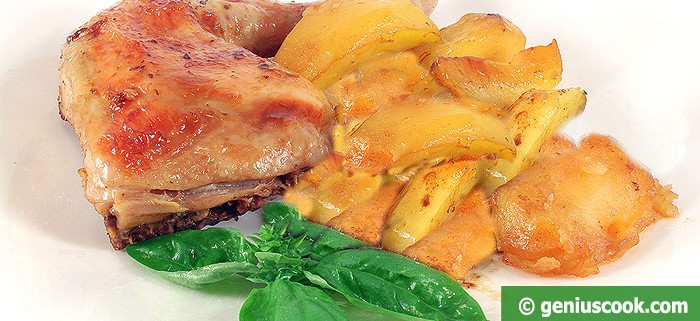 Chicken in Cream Baked with Potatoes Recipe
This is an awesome by taste and simple at the same time dish. The chicken is pre-marinated in cream with herbs and then baked in the same pickle.
As a result, you will get very tender flavorful meat, which is perfectly in harmony with the potatoes.
We recommend this method of cooking.
Ingredients for Chicken in Cream Baked with Potatoes
Chicken: 1
Cream 30-35%: 200 gr.
Spices and herbs: coriander, black pepper, rosemary and oregano.
Onion: 1
Salt, potatoes, fresh rosemary, cherry tomatoes, olive oil: to taste everything.
Recipe for Chicken in Cream Baked with Potatoes
Chop onions. Rub them with salt.
Add the cream, spices, herbs and mix everything.
Cut chicken meat into pieces and add it into this mixture. Marinate it for 2-3 hours.
Put the chicken pieces in the pan.
Add the potatoes cut into large pieces, grease with olive oil and salt, add rosemary.
Put a few cherry tomatoes on top of it.
Place the baking sheet in the oven.
Bake the chicken with potatoes until cooked, about 40 min, at 180C.