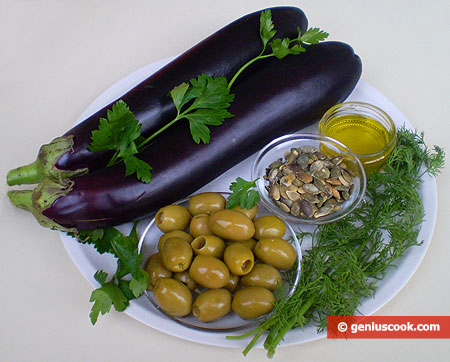 The Recipe for Eggplants Salad with Olives and Gourd Seeds
All over the world people are rejecting poor quality fast foods in favor of slow foods, meaning they begin to prefer slowly-prepared meals that are much better in terms of health and quality. Now it is considered popular and prestigious to hold dinner or supper home parties and serve home made dishes instead of those prepared from semi finished store food. And the most glorious thing is a dish of your own invention. Its ingredients must not necessarily be expensive and exotic. The commonest products in unusual combinations can make for an exquisite taste that your guests will keep remembering for some time to come. As an example: grilled eggplants, olives and gourd seeds make a very pleasant salad with an added zest provided by fresh herbs and a garlic clove.
Ingredients for Eggplants Salad with Olives and Gourd Seeds
2-3 eggplants
0.2 lb olives without stones
0.1 lb gourd seeds
garlic clove, fresh herbs: parsley, dill stalks
Extra Virgin olive oil, salt to taste
Cooking Instructions
Wash eggplants, cut them across into thin slices. Fry each slice on a grill or on a dry teflon-coated frying pan on both sides until they are soft. Put the slices in one layer. If you do it fast enough eggplants become dry but soft. Then chop them finely.
Chop herbs finely, mash a garlic clove. Dice olives into small pieces and cut some olives into rings for garnishing.
If you take raw gourd seeds fry them slightly on a dry frying pan.
Put all the ingredients together, salt to taste and dress with olive oil generously.
Garnish the salad with olive rings, sprinkle with gourd seeds.
https://geniuscook.com/wp-content/uploads/2009/12/Ingredients-for-Eggplants-Salad-with-Olives-and-Gourd-Seeds.jpg
362
450
Elena and Alfredo
https://geniuscook.com/wp-content/uploads/2014/02/gc-logo2.png
Elena and Alfredo
2009-12-20 08:10:27
2009-12-20 08:10:27
The Recipe for Eggplants Salad with Olives and Gourd Seeds