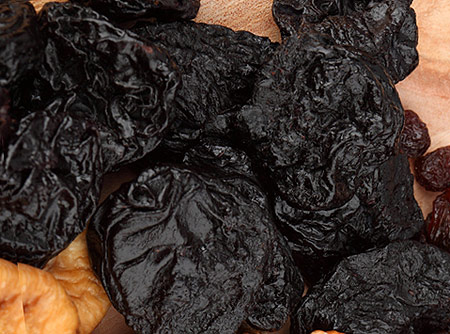 Damson Prevents Osteoporosis
Scientists discovered that damson provides a simple and efficacious measure against bone loss and bone breakage. Although all fruits and vegetables have a positive influence on health, damson is especially salubrious for strengthening bones.
A research team from the University of Florida and the University of Oklahoma conducted experiments on two groups of women in postmenopause. In the experiment lasting for 12 months the first group of 55 women had 0.2 lb damson daily while the other group of 45 women had 0.2 lb dried apples. Besides, all the participants received daily doses of calcium (0.02 oz or 500mg) and vitamin D (400 ME).
The group that ate damson showed a significantly higher mineral density of bone tissue. The researchers believe that damson slows down the speed of bone decomposition which tends to exceed the speed of building up new bone tissue.
About 8 million women in the US suffer from osteoporosis due to sudden halt of the generation of ovary hormones at the beginning of the menopause. When men turn 65 they begin to lose bones as quickly as women do.
Therefore scientists urge people not to wait until their bones get broken but heed the strongly positive effect of damson on the bone tissue density and include it in their daily diet. Also, to eat fresh plums in season, it are also very good for health.
https://geniuscook.com/wp-content/uploads/2011/08/prune.jpg
334
450
Elena and Alfredo
https://geniuscook.com/wp-content/uploads/2014/02/gc-logo2.png
Elena and Alfredo
2011-08-25 05:17:58
2014-05-30 13:39:30
Damson Prevents Osteoporosis