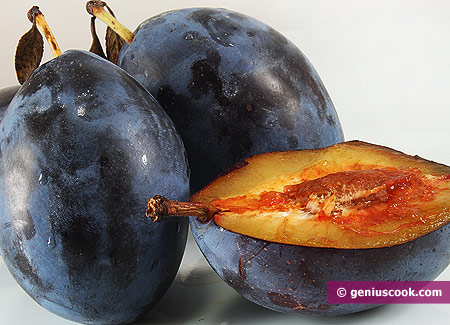 The season has begun when sweet, fleshy and juicy plums are in. Scientists regard plums as super wholesome food. They discovered that this violet fruit equals in the amount of antioxidants and phytonutrients to the well-known topper blueberry.
Plums contain almost as many antioxidants such as lutein, zeaxanthin, and cryptoxanthin as a handful of blueberries, and dark sorts of plums have even more. But plums are much cheaper and more available.
Plums make a good addition to slimming diets since they contain substances that normalize the functions of the alimentary tract. They assist in purging the body of waste and bad cholesterol, improve metabolism.
Plums and damson are a rich source of mineral substances that strengthen bones.
Plums increase hemoglobulin, help regulate heartbeat and blood pressure. They contain vitamin K which is important for the blood composition and blood coagulability.
Dark plums inhibit the development of the Alzheimer disease.
Plum phytonutrients are known to inhibit the growth of cancer cells without affecting normal cells.
Besides a range of vitamins and minerals plums contain a considerable amount of potassium, iron, manganese, calcium, phosphorus, vitamin C, K, B group, betacarotene and folic acid.
Calorie plums 43-46 kcal
https://geniuscook.com/wp-content/uploads/2011/08/prug.jpg
325
450
Elena and Alfredo
https://geniuscook.com/wp-content/uploads/2014/02/gc-logo2.png
Elena and Alfredo
2011-08-27 13:37:23
2011-08-27 17:49:32
Plums Are Wholesome