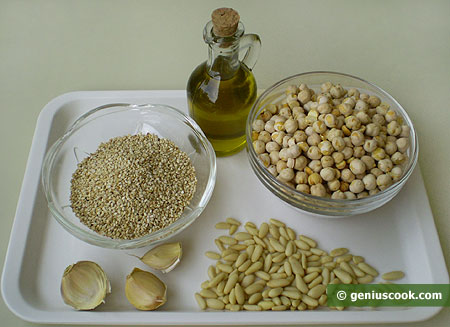 Hummus is a traditional and very popular dish in Israel, the Mediterranean countries and the Arab world. It is made of boiled chickpeas or yellow Bengal gram. Classical recipes require adding the so-called thin, fried sesame seeds paste. As regards other ingredients different variants exist, you can add everything to your taste. Usually they add garlic, lemon juice and different spices: jeera, pepper, sweet pepper, pignoli, olives. And you have to take only quality Extra virgin olive oil which is added both while cooking and when serving the dish. Hummus is usually served at room temperature; it should be neither cold nor hot. You can spread it on dried thin slices of bread or you can dip fresh pita bread into hummus. Good hummus contains much thin and it should be mixed in a blender for a long time. It will give you great enjoyment and improve the function of your intestinal tract.
Ingredients for Hummus
0.7 lb chickpeas
0.3 lb sesame seeds
juice from one lemon
2 garlic cloves
salt, pepper, jeera, olive oil, pignoli, herbs to taste
Cooking Instructions
Pre-soak chickpeas and better do it the night before. Boil it until soft over low heat for about 1.5-2 hours. Then take the chickpeas out of the broth. If you peel chickpeas of its skin hummus will be tastier. Don't discharge the broth, you'll need it later.
Roast sesame seeds on a dry frying pan until its color and taste become nutty. Then chop them in a blender adding olive oil. You'll get a smooth grayish mixture. To make it whiter, add some water and continue to mix it with the blender. The texture should be thick as sour cream. This is thin, it has a slightly bitter rich nutty taste. It can be stored in a fridge for a very long time.
Place chickpeas into the blender with some olive oil and a lot of thin. Actually the more thin the better.
Blend it at maximum speed, adding olive oil and broth. Add cut garlic, some pepper, lemon juice, salt. Blend the hummus until the mixture is absolutely smooth.
Place the hummus into the fridge for two hours. Serve the hummus slightly spread over a plate. Sprinkle it with any herbs, roasted pignoli, and drizzle with olive oil.
https://geniuscook.com/wp-content/uploads/2010/01/Ingredients-for-Hummus.jpg
327
450
Elena and Alfredo
https://geniuscook.com/wp-content/uploads/2014/02/gc-logo2.png
Elena and Alfredo
2010-01-27 06:09:41
2010-01-27 06:09:41
How to Cook Hummus