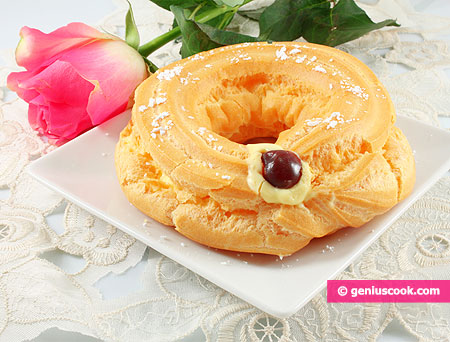 Choux ring with custard "Zeppole San Giuseppe"
These are typical sweet pastries baked in Italy for Father's Day. On this day, all confectioneries sell fresh choux rings decorated with a cherry. They are given to beloved dads.
They are called Zeppole or Bigne di San Giuseppe and are dedicated to all the fathers represented by St. Joseph. Can say that Zeppole – symbol of this holiday.
Ingredients for Choux ring
Water: 250 ml.
Butter: 100 g.
Flour: 250 gr.
Eggs: 5
A pinch of salt.
Ingredients for custard
Milk: 300 ml.
Sugar: 100 gr.
Egg yolks: 3
Corn starch 25 g.
Vanilla.
Powdered sugar and cherries for decoration.
Recipe for Choux ring with custard
Bring water with butter and a pinch of salt to a boil. Remove from the heat, add all the flour. Stir well with a wooden spoon and return onto the cooker. Continue stirring to form a ball that will come off the walls.
Leave to cool down. Add eggs one by one into the warm mixture when the previous one is absorbed.
Put the mixture into a pastry bag with a star tip.
Squeeze the dough rings. Do not make them too big, or they will be more difficult to bake.
Bake in the oven for 25-30 minutes (180 ° -200 °C). There is a higher-calorie option – deep-fried rings. Choose what you like.
To make the cream, whisk egg yolks with sugar, add the cornstarch.
Bring the milk to a boil. Trickle the yolks in, constantly whisking. After 20 seconds the cream is ready.
It is time to fill the rings. It is best to cut them lengthwise and spread the cream all over, so there will not be any voids.
Sprinkle icing sugar and garnish with cherry.
https://geniuscook.com/wp-content/uploads/2014/05/zeppole-papa-pronto.jpg
342
450
Elena and Alfredo
https://geniuscook.com/wp-content/uploads/2014/02/gc-logo2.png
Elena and Alfredo
2014-05-01 11:03:22
2014-05-01 11:06:10
Choux ring with custard "Zeppole San Giuseppe"