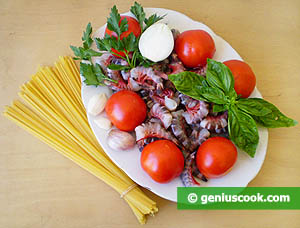 Bavette with Tiger Shrimp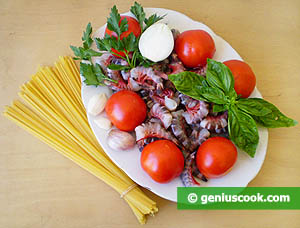 Bavette with tiger shrimp is an excellent option for family dinner.
This dish is also perfect for a romantic dinner as zinc and mineral salts in tiger shrimp wake up your sexual desire.
Bavette is flat pasta made with hard wheat.
This pasta is a good source of carbohydrates and the B vitamins.
Try our recipe for bavette with tiger shrimp.
It's worth the efforts!
Ingredients for Bavette with Tiger Shrimp
1 lb Bavette
2.2 lb tiger shrimp
6-8 tomatoes
4-5 garlic cloves
1 onion
3-4 parsley stalks
Couple of basil leaves
2-3 tablespoons olive oil
Salt to taste
Recipe for Tiger Shrimp Sauce
Dip the shrimp into boiling water for a few minutes to make it easier to pull flesh out of shells.
Peel the shrimp and cut in small pieces.
Cut onion into thin half-slices.
Chop garlic finely.
Wash tomatoes and cut into small pieces.
Pour olive oil in a frying pan and sauté onion and garlic.
Add tomatoes and shredded greens – parsley and basil.
Simmer the sauce for 10 minutes and pour in a glass of white wine. Keep simmering until the wine evaporates.
Put the shrimp into the sauce, pour in a glass of water and simmer everything together for 5 minutes. The sauce for bavetti is ready.
Recipe for Pasta
Take a large pot and pour in about 3 liters of water (6 pt).
Bring the water to a boil, add salt and put bavette into boiling water.
Stir bavette with a big fork so they don't stick to the bottom of the pot.
Cook until al dente. It means pasta should be slightly hard in the middle. Check cooking times on the package. It varies depending on the quality of pasta.
Use a colander to drain water. Arrange on the plates or on a serving plate and top with the sauce. Serve hot.
Note: If you like spicy food, you can add more of white, red or black pepper.