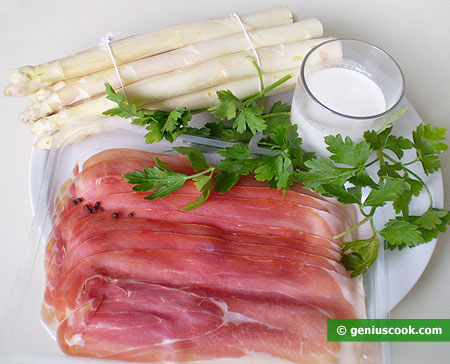 White Asparagus with Ham and Cream
Spring is the season for asparagus. It's the time to enjoy different dishes with fresh and juicy asparagus. Green or white, each has its own shades of taste and is simple to prepare. Gourmets prefer white asparagus. It is grown on sandy mounds in the shade and has a slight mushroom flavor. You'll have to boil it a little longer than the green sort.
Ingredients for White Asparagus with Ham and Cream
10 stalks of white asparagus
0.3 lb Prosciutto ham
a cup of cream
parsley, black pepper, salt
Cooking Instructions
Cut off about half an inch from the end of each stalk and peel off the rough skin. Wash and tie up all the stalks with a thread into a bunch.
Boil 4.22 pts of salted water in a wide pan, put in the asparagus bunch and cover with a lid. Boil for 10-15 minutes, then take it out of the water and untie.
Wrap each stalk into a thin slice of ham and put them in a form.
Pour them over with cream, sprinkle with parsley and pepper to taste.
Bake at the temperature of 392 degrees for about 10 minutes. Serve asparagus hot, dressed with cream sauce.