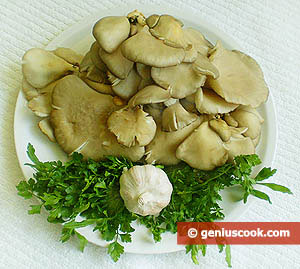 Oyster Mushrooms Trifolati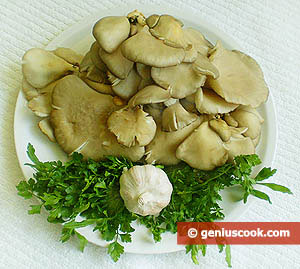 Oyster mushrooms are edible mushrooms that grow in clusters on the dead tree trunks and stumps. The shape of their caps resembles the oyster valves. Younger mushrooms are highly prized for their juiciness, tenderness and deep mushroom flavor while older mushrooms are tough as ropes. Oyster mushrooms are rich in all essential substances we need. Their nutritional value is almost as high as that of meat. They contain proteins, fats, vitamins, amino acids and such minerals as cuprum and potassium.
Oyster mushrooms growing on trunks of trees contain the substance called beta glucan that has a strong antitumor effect, strengthens immune system, helps fighting virus infections and lowers cholesterol level and blood sugar level. In addition, all mushrooms are low-calorie food. That's why dishes made of oyster mushrooms are a delicious way to stay healthy. We have prepared oyster mushrooms trifolati. This Italian word means "cut into thin pieces and fried in olive oil". Try this vegetarian recipe, it's very tasty!
Ingredients for Oyster Mushrooms Trifolati
1 lb (500 g) oyster mushrooms
3-4 garlic cloves
4 parsley stalks
2-3 tablespoons (40-50 ml) olive oil
Salt to taste
Recipe of Oyster Mushrooms Trifolati
Wash mushrooms well and separate the caps from the stems.
Cut the caps into long slices.
Finely dice garlic and chop parsley.
Sauté garlic with half of parsley.
Then add mushrooms and stir everything well. Cover and simmer over low heat for 20 minutes.
Put the other half of chopped parsley. Stirring regularly, simmer uncovered for additional 5-10 minutes to ensure excessive water evaporates.
When all the water is evaporated, mushrooms are done.
Garnish with chunks of tomatoes, lemon and fresh parsley. Serve hot or cold.
Note: if you want to give your mushrooms a zing, pour lemon juice over them.