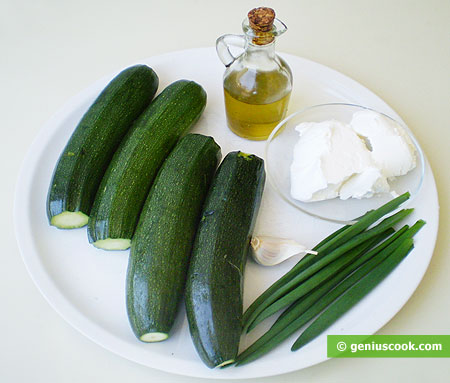 Zucchini with Philadelphia Cheese, Spring Onion and Garlic
Zucchini and vegetable marrows are of the same taste, one and the same, so you can use marrows instead of zucchini every time. Everybody who likes marrows will appreciate zucchini stuffed with Philadelphia cheese. Omit pepper if you are going to give the dish to children.
Ingredients for Zucchini with Philadelphia Cheese
4-5 medium-sized zucchini
0.4 lb Philadelphia cheese
a few green spring onions
1 garlic clove
1 tablespoon olive oil
oil for frying, salt, pepper
Cooking Instructions
Cut zucchini along into two parts. Scoop out the core.
Fry the zucchini halves in a pre-oiled frying pan on both sides until they are ready.
Put the zucchini halves on a paper napkin spread over a plate to let the superfluous oil drip off.
Mince the zucchini cores and fry with a spoonful of olive oil until they get soft. Mash them.
Squeeze a garlic clove. Dice the spring onion finely.
Add Philadelphia cheese to the mixture of garlic, onion and mash, sprinkle with salt and pepper, mix together.
Put the mixture into the  zucchini halves.