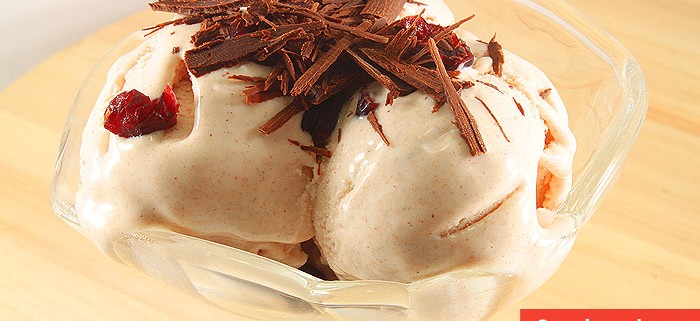 It is becoming increasingly popular in many European countries, Italy in particular, to eat healthy ice cream on the basis of yogurt. Therefore, almost all cities have Yogurteria, where you can try fresh and frozen yogurt, side by side with Gelateria, which sell traditional ice cream.
It is very simple and easy to cook such ice cream, especially if you have a freezer.
If you don't, you will have to periodically stir the mixture by hand while freezing; this will form a delicate texture of the ice cream without any coarse ice crystals.
Ingredients for Yogurt Ice Cream with Cinnamon and Cranberries
Greek yogurt: 800-900 gr.
Condensed milk: 400 gr.
Cinnamon powder: 1 tbsp
A handful of dried cranberries.
Sugar: 2 tablespoons
Sliced chocolate for decoration.
Recipe for Yogurt Ice Cream with Cinnamon and Cranberries
Mix yoghurt with condensed milk.
Add cinnamon, cranberries and sugar to taste.
Put the mixture into a bowl of ice cream maker and freeze it according to the instructions.
Place the soft ice cream into a container and put it in the freezer for final freezing.
When serving, sprinkle ice cream with sliced chocolate.