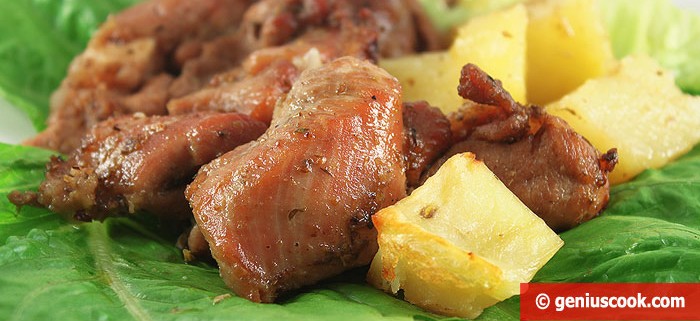 Turkey meat is difficult to spoil. It almost always turns out to be perfectly soft, juicy and flavored.
Today we have a delicious, exquisite dish, which resembles roast. It has its own peculiarities.
Ingredients for Turkey with Potatoes, Onions and Herbs
Turkey meat: 1 kg.
Onions: 1-2
Fresh rosemary.
Balsamic vinegar or cream from it: 2 tsp
Spices: black pepper, oregano, coriander, paprika, salt: to taste everything.
Olive oil: 2-3 tbsp
Potatoes: 2-3
Recipe for Turkey with Potatoes, Onions and Herbs
Cut turkey meat into medium pieces.
Cut onions into half rings, mix them with rosemary, spices, salt, olive oil, and balsamico.
Marinate the meat in this mixture for a few hours.
Put the meat in the deep baking tin.
Add potatoes, cut into pieces of the same size as the meat.
Bake the dish in the oven for 30-40 minutes, at 180 C.
You need to keep an eye on your oven to preserve moisture in the meat.