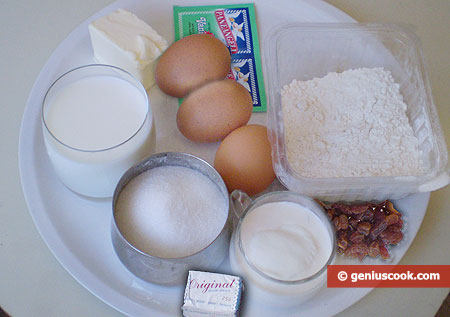 The Recipe for Vanilla Crackers with Raisin
Crackers go so well with tea, milk or coffee. When you dip them in your drink they soak up well while retaining their form. These crackers are good for making the Russian popular kind of small cake called "Kartoshka" (Potatoes) or English pudding.
Ingredients for Vanilla Crackers with Raisin
1.6 lb flour
3 eggs
0.5 pt or 0.2 cups milk
0.2 pt or half a glass cream or sour cream
0.1 lb butter
5 tablespoons sugar
2 bags vanilla sugar
0.1 lb raisin
0.05 lb fresh yeast
pinch of salt
Recipe for Vanilla Crackers with Raisin
Dissolve yeast in warm milk with sugar. Add eggs, cream, soft butter, salt, vanilla sugar.
Adding sifted flour gradually, knead soft non-sticky elastic dough. Work on it for about 20 minutes. You may need a little more or less flour, it depends on its absorbing qualities. When the dough sticks no longer add no more flour.
Roll up the dough into a ball, place it in a bowl, cover up with a film and leave for 2 hours.
When the dough has grown twice the size, mix in raisins. Divide the dough into 4 parts.
Roll each part into a long baguette, put them on a baking tray. Leave them to come to for 30 minutes.
Bake at 356 degrees for about 40 minutes.
Take the tray out of the oven, let it cool down and then cut the baguettes across.
Put the slices on a tray.
Dry them at 320 degrees until they acquire a nice golden color.