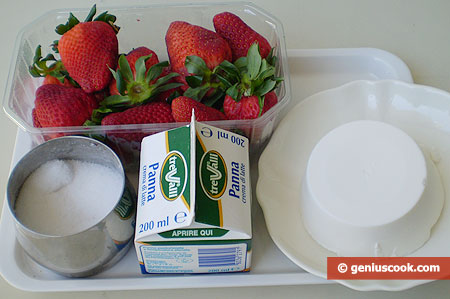 There is a marvelous tender dessert to be made from cream, ricotta and strawberry. It is completely natural, flavorful and even wholesome. Making a tasty dish is the best way to show your love. And you won't have to work hard to make this dessert, it is simple.
Ingredients for Butter Cream with Strawberry
0.42 pt 35% cream
0.4 lb ricotta
0.2 lb sugar
2 tablespoons starch
0.6 lb strawberry
Recipe for Butter Cream with Strawberry
Cut strawberry into cubes, put them into a pan and put in 0.1 lb sugar. Mix well. When juice has oozed out, add starch, mix well and turn on the heat.
Bring to boil stirring constantly and turn off the heat in 2 minutes. The strawberry sauce is ready, cool it down.
Whip cream with 0.1 lb sugar, add ricotta and mix up at a low speed. The butter cream is ready.
Serve cream with sauce in bowls or glasses decorating it with slices of fresh strawberry.