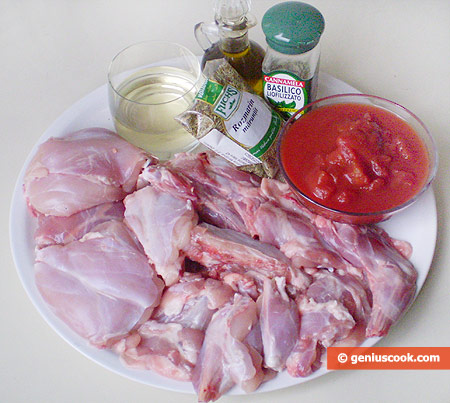 The Rabbit with Piquant Sauce Recipe
Rabbit meat in racy sauce with rosemary and basil is the way they customarily cook rabbit in Naples. What makes the recipe special is the absence of onion and garlic that are invariably used in meat dishes. Nevertheless the dish boasts a rich taste.
Ingredients for Rabbit with Piquant Sauce
2 lb rabbit meat
0.4 lb tomato pieces
0.2 pt or half a glass of dry white wine
1 tablespoon dry rosemary
2 tablespoons dry basil
red pepper, salt, olive oil
Recipe for Rabbit with Piquant Sauce
Pour some oil into a roasting pan and heat it up. Roast rabbit pieces quickly on high heat.
Take the meat out of the roasting pan. Put in tomatoes, basil, rosemary, red pepper, salt and stew for about 5 minutes. After that add wine and stew for another 5 minutes to make the sauce thicker.
Put fried rabbit pieces into the sauce, cover with the lid, turn down the heat to minimum and stew for about 15 minutes.
If the rabbit is still tough, add some more water into the sauce and stew until it gets soft for some 15-20 minutes more.