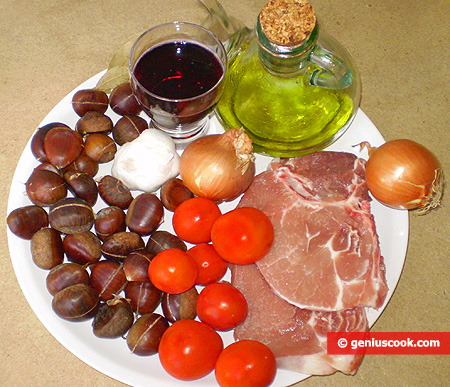 The Cretan Recipe for Stewed Pork with Chestnuts
It's a casserole from pork and chestnuts they make in Crete. Nobody will remain indifferent to the delicious taste of this unique and nourishing dish. Chestnuts are in, so now's the time you can make it with fresh chestnuts.
Ingredients for Stewed Pork with Chestnuts
600-700 gr. (1 lb 5 oz-1 lb 9 oz) pork
400-500 gr. (1 lb-1 lb 2 oz) chestnuts
1-2 onions
2.3 cloves garlic
5-6 tomatoes
1 tbsp tomato paste
1 cup dry red wine
1 cup water
Olive oil: 4-5 tbsp
Bay leaf, salt and pepper: to taste
Recipe for Stewed Pork with Chestnuts
Make cuts in chestnuts and bake them at 390 degrees for about 15 minutes; then take the skin off.
Pour some oil into a roasting pan and sauté finely chopped onion and garlic.
Put in meat cut into medium-sized pieces, turn up the heat and roast for a couple of minutes until they get nicely brown.
Add finely chopped tomatoes, tomato pasta, then turn down the heat, cover up and stew for 10 minutes.
After that pour in wine, water, add chestnuts, salt, pepper, laurel leaf, cover up again and stew for another 20 minutes on low heat. If there is not enough liquid, add some more water. This dish is juicy and flavorful if it has enough sauce.