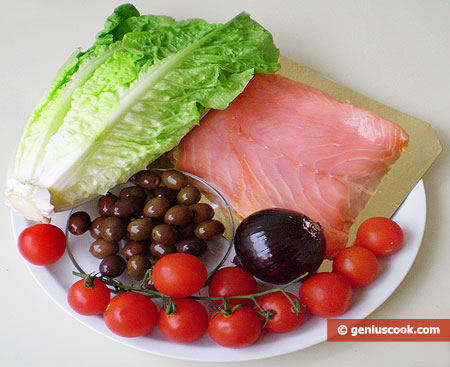 You can cook very tasty salads with any kind of salty red fishes: summer salmon, salmon or trout. These fishes go to a marvel with the taste of olives and small sweet cherry tomatoes. It is especially healthy to dress all salads with good Extra Virgin olive oil of first extraction.
Ingredients for Salad with Salmon, Olives and Red Onion
0.4 lb green salted salmon flesh
0.4 lb olives without stones
0.9 lb cherry tomatoes
1 red onion
some lettuce leaves for garnishing
olive oil, salt to taste
Cooking Instructions
Dice the salmon finely.
Cut olives and tomatoes into halves or into three pieces.
Cut onion into half rings.
Put all the ingredients into a salad bowl, salt if you wish, dress with olive oil and mix up.
Put the salad on lettuce leaves, garnish with red onion slices and serve at once.