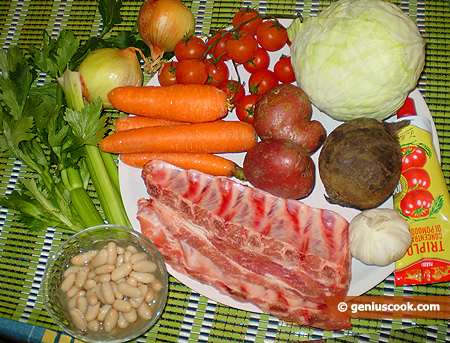 The Beetroot Soup (Borscht) with Pork Ribs Recipe
A rich, bright and nice-smelling beetroot soup (Russian or Ucrainian Borscht) is a favorite with many people, and it is only natural – beetroot soup is a robust and harmonious dish which has everything we need to feel good.
A plateful of hot thick beetroot soup is something that is impossible to resist, especially if it comes with pampushky. In cold weather it will keep you warm all day long.
Ingredients for Beetroot Soup Borscht
Meaty pork ribs 1 kg (2,2 lb)
Cabbage: 300 gr (10 oz)
Potatoes: 2-3
Beetroot: 1
Carrots: 3
Onions: 2
Glass of boiled beans
Couple stalks of celery and parsley
A few ripe tomatoes or a cup of tomato puree
Concentrated tomato paste: 2-3 tbsp
Garlic: 5-6 cloves
Olive oil or sunflower oil
Juice of one lemon or something sour, to beet retained their bright color
Salt, pepper, bay leaf, rosemary and other spices to taste.
Recipe for Beetroot Soup Borscht
First you need to boil meat and prepare broth which is the basic ingredient for a good soup. Pour ribs with 15-16 cups of water and bring to boil. Take the froth off with a skimmer.
Then put in rosemary, onion, laurel leaf, carrot, a couple of celery stalks, a few peas of coriander. Boil the meat on low heat until ready, it will take about 40 minutes.
Meanwhile get ready the ingredients that must be fried. Take a deep frying pan, pour in enough oil to cover the bottom and a little more.
Fry cube-cut onion, then add carrot and beetroot, 3-4 minutes later put in tomato paste, chopped tomatoes and lemon juice. Stew the vegetables on low heat for another 10 minutes.
Take the meat out of the broth, pick it from the bones and cut into medium-sized pieces. Put them aside for a while.
Strain the broth, pour it back into the pan and put on heat.
Put in cube-cut potatoes and chopped cabbage. When they are almost ready, add the fried mixture and boiled kidney beans.
Boil it all for 10 minutes more, then turn off the heat. Put in the meat, finely chopped garlic, parsley.
Cover up and let the soup come to for 20 minutes.
https://geniuscook.com/wp-content/uploads/2013/01/ingrediente-per-borsh.jpg
343
450
Elena and Alfredo
https://geniuscook.com/wp-content/uploads/2014/02/gc-logo2.png
Elena and Alfredo
2013-01-24 08:47:39
2013-01-24 08:56:46
The Beetroot Soup (Borscht) with Pork Ribs Recipe