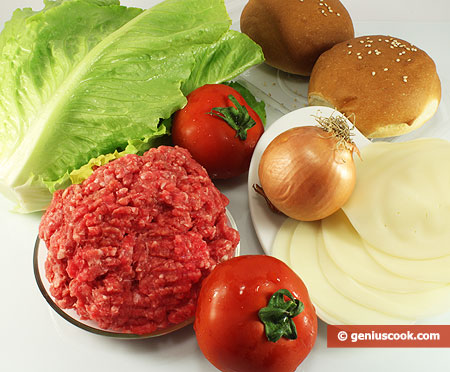 Can fast food be healthy? At our age of speed and the fast tempo of living you can't get round fast food. You can make it healthy through using natural products. Unfortunately, there is little natural in the food served in snack-bars and lunchrooms. Whereas at home you can make a cutlet from natural meat and serve it on a bun with fresh vegetables and good cheese. There is nothing difficult or unhealthy about it.
Ingredients for Hamburger
0.7 lb minced beef
2 tomatoes
6 slices of cheese
1 onion
a few salad leaves
ketchup, salt, spices
3 bread rolls with sesame
Cooking Instructions
Salt the minced meat, add spice to taste, mix and shape for hamburgers.
To make your hamburgers perfectly round and flat you will need a machine like the one you see in our picture. It will help you form ideally shaped hamburgers of the right size for bread rolls.
If you have no machine handy, make cutlets with your hands and press them down with a wide knife.
Roast the hamburgers on a frying-pan with a thick bottom on high heat, without lard. The hamburger should be well roasted outside and juicy inside.
Cut the bread roll into halves. Put a salad leaf, cheese, tomatoes, onion, hamburger, ketchup on the lower half and top it with another layer like that. Cover it up with the upper half of the roll and you can eat it.