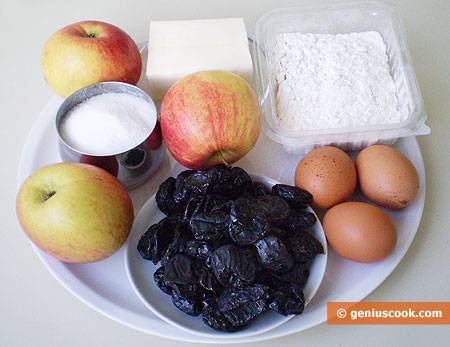 The Short Pastry Pie with Apples and Prunes Recipe
Short pastry does not tolerate a long treatment; it becomes overkneaded and too thick. That is why this pie requires quickness and skill. And there is one more trick – you'll need a cake hoop because the dough is so delicate and crumbly that it will be very problematic to get the pie out of a usual form without breaking it.
Ingredients for Short Pastry
0.3 lb butter
0.3 lb sugar
3 eggs
2 tablespoons kefir
1 bag baking powder
1 pinch of salt
vanilla
flour as much as needed
Ingredients for Filling
4-5 apples
0.4 lb prunes
0.3 lb sugar
1 oz butter
0.1 pt water
Cooking Instructions
Peel apples, remove the seeds, cut them along into not very thin slices.
Soak prunes in water for 15 minutes, then wash them and drain using a colander.
Put a piece of butter into a frying pan with a thick bottom, add water and sugar.
Put it over a very low heat. Boil the syrup stirring it constantly. Continue boiling until the syrup becomes like caramel. The caramel mustn't get too dark.
Put in apples and boil them in the caramel until they get soft, over a very low heat. Turn the heat off.
Now it is time to make the dough. Whip up eggs with butter and sugar. Add a pinch of salt, vanilla, two spoons of kefir and baking powder.
Then add flour gradually. Knead the dough until it is soft and not sticky.
Quickly spread the dough with your hands in a cake hoop.
Put the warm apples on the dough, spread prunes between the apples and pour the caramel from the frying pan over everything.
Fold the pie edges, top the pie with dough strips.
Bake the pie in an oven preheated to 360 degrees for about 40 minutes.
Cut the pie when it has cooled down.
https://geniuscook.com/wp-content/uploads/2010/04/Ingredients-for-Short-Pastry-Pie-with-Apples-and-Prunes.jpg
347
450
Elena and Alfredo
https://geniuscook.com/wp-content/uploads/2014/02/gc-logo2.png
Elena and Alfredo
2010-04-02 17:57:28
2010-04-02 17:57:28
The Short Pastry Pie with Apples and Prunes Recipe